Sari
A saree or sari is a female garment in the Indian subcontinent. A sari is a strip of unstitched cloth, ranging from four to nine meters in length, that is draped over the body in various styles. There are various traditional styles of saree: Sambalpuri Saree from East, Kanchipuram from South, Paithani from West and Banarasi from North among others.The most common style is for the sari to be wrapped around the waist, with one end then draped over the shoulder baring the midriff. The sari is usually worn over a petticoat.Blouse may be "backless" or of a halter neck style. These are usually more dressy with a lot of embellishments such as mirrors or embroidery and may be worn on special occasions. Women in the armed forces, when wearing a sari uniform, don a half-sleeve shirt tucked in at the waist. Teenage girls wear half-sarees, a three piece set consisting of a langa, a choli and a stole wrapped over it like a saree. Women usually wear full sarees. Saris are usually known with different names in different places. In Kerala, white saris with golden border, are known as kavanis and are worn on special occasions. A simple white sari, worn as a daily wear, is called a mundu. Saris are called pudavai in Tamil Nadu. In Karnataka, saris are calledSeere
Ghagra Choli (lehenga choli)
A Ghagra Choli or a Lehenga Choli is the traditional clothing of women in Rajasthan and Gujarat.[citation needed] Punjabis also wear them and they are used in some of their folk dances. It is a combination of lehenga, a tight choli and an odhani. A lehenga is a form of a long skirt which is pleated. It is usually embroidered or has a thick border at the bottom. A choli is a blouse shell garment, which is cut to fit to the body and has short sleeves and a low neck. Different styles of ghagra cholis are worn by the women, ranging from a simple cotton lehenga choli as a daily wear, a traditional ghagra with mirrors embellished usually worn during navratri for the garba dance or a fully embroidered lehenga worn during marriage ceremonies by the bride. Popular among unmarried women other than shalwar kameez are Gagra choli and Langa voni
Salwar Kameez
Salwar is a generic description of the lower garment incorporating the Sindhi suthan, Dogri pajamma and the Kashmiri suthan. The Salwar kameez is the traditional wear of women in Punjab, Haryana and Himachal Pradesh. The suthan, similar to the salwar is common in Sindhand Kashmir. The salwar kameez has become the most popular dress for females. It consists of loose trousers (the salwar) narrow at the ankles, topped by a tunic top (the kameez).It is named as "Punjabi suit" or simply "shalwar" in the north and "churidaar" in Southern India.Women generally wear a dupatta or odani (Veil) with salwar kameez to cover their head and shoulders.It is always worn with a scarf called a dupatta, which is used to cover the head and drawn over the bosom. The material for the dupatta usually depends upon that of the suit, and is generally of cotton, georgette, silk, chiffon among others.[citation needed] This dress is worn by almost every teenage girl in lieu of western clothes. The salwar kameez is most common in the northwestern part of India. Many actresses wear the salwar kameez in Bollywood movies.
Churidaar Kurta[edit]
Plain Churidaar kurta (left) Anarkali style churidaar kurta
Churidaar is a version of salwar, which is loose up to knees and then fits the calf below. A salwar is a baggy pyjama with pleats which gets narrow at the ankles whereas churidaar fits below the knees with horizontal gathers near the ankles.Usually a long kurta, whgoes below the knees, is worn with the churidaar.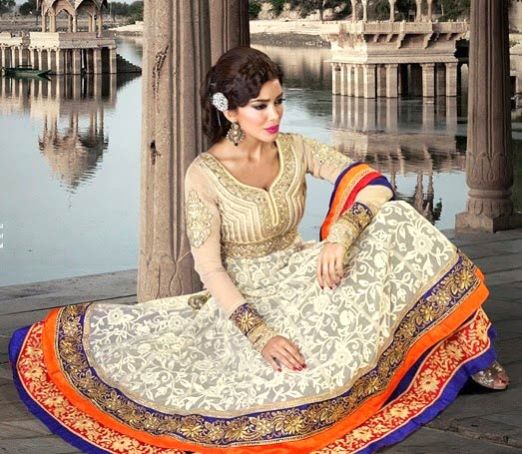 Kolkata boy Sabyasachi Mukherjee, has become a legend in the couture circuit in just a span of three years and with three major collections for the annual Lakme India Fashion Week and is undoubtedly one of India's most influential designers. His style is smart, his cuts unique and whether he plays with colors or sticks to 'modern' monochromes, his clothes continue to fly faster and faster off the shelves from boutiques in all the major metros.
A while ago, he was the only Indian designer to feature at the Milan Fashion Week — to cap an enormously successful presentation at the India Fashion Week '04 called The Frog Princess. He graduated from NIFT in 1999 with three of its most coveted awards and has also been retailing at London's posh fashion outlet Brown's. In 2005, the world saw more of Sabyasachi with his new collections at London, Paris and on the pages of Voguemagazine.
He is the most original of Indian dress and accessory designers with an exquisite taste and stays true to his Indian roots. On his latest role as a designer for the TV showBand, Bajaa, Bride, Sabyasachi says " I just want to dress girls who are not rich and famous". Ironically, it is the rich and famous who queue up at his stores, wanting to add a Sabyasachi lehanga or a sari to their wardrobes. He is most sought-after for bridal wear and the only one to attain a mix of fame, critical acclaim, global recognition and commercial success in such a short span. He says that the only designer he followed was the brilliant Rohit Khosla, who died prematurely in the mid-Nineties. Ritu Kumar is the other designer he was inspired by.
In case if you'd like to see lehengas from other designers, click here, here, and here. The below images are some of his best work! Feast your eyes on them! Don't forget to click on the image to view them bigger.
32 Trendy designer sarees in vogue now
As the festive season inches closer, it's time to go shopping. Now, before you pick up a designer sari, have a look at our collection of saris. A designer sari is an extremely versatile garment. Whether you wear it for a festival, a wedding or a work related event, it will never let you down. We all wish we can buy a new one of these gorgeous pieces for every event, but let's be realistic, it makes more sense to choose a sari that will work across the spectrum of events you will be attending this festive season.
The older generation has always warned us not to wear black. But with designs like these it's so difficult to resist! Not to mention, black is a slimming color, and who couldn't do with a little extra slimming effect while glittering at a party? An added plus- it works with every complexion. We especially love the combination of black and gold, because it's just so easy to accessorize! A black designer sari can be changed in many different ways to work perfectly for all your occasions. Remember to accessorize differently for traditional and fun occasions, so you can rock that saree everywhere you go. Recently we are seeing a lot of sarees with accents of neon. There's so much scope for making a style statement with these colors. An otherwise simple saree can be made to look absolutely gorgeous with just a little bit of neon. This is the perfect pick for the younger girls out there, because of the fun and adventurous impression it has!
Unlike traditional sarees, designer sarees leave you with enough options for your blouse. You choose a halter or a spaghetti blouse or even a backless one because a designer saree will give you that freedom. More and more trendsetters are seen wearing solid colored blouses which you would think clash with the rest of the saree. But here's the secret, wearing a blouse of the same color as your saree has become a little tacky! It's a strict no-no unless you have done something so drastically different with it, that the matching-matching doesn't become obvious. For those of us who are not comfortable with really adventurous blouses, the next best option is a Sabyasachi style blouse. Something that comes all the way down to your elbows, with a deep neck, deep back and maybe a cute little string tying the blouse together. The plus point of these blouses is that you can dare to wear them for a traditional occasion as well.
The metallic trend is still going strong when it comes to designer sarees. Most of the designers are doing a heavy gold border, or a dose of golden embellishments across thepallu. Gold doesn't seem to being leaving the ramps anytime soon, so go ahead and put it in your wardrobe! Here's a tip- choose the metal on your sari on the basis of the jewellery you already have. If your jewellery box is heavy on the gold, getting a sari with golden elements will be the smart thing to do, because you wouldn't have to invest in jewellery!
If you come across any other gorgeous designer saris, let us know! Click on the images if you'd like to buy it.
Stunningly stylish designer suits available online
As demure and elegant a salwar kameez may be, today's designers have found ways to make it evolve into a style statement. Just before the festive season hits, we have brought you a collection of the latest designer suits. Just so when you shop, you'll know what to pick so you can sizzle from Ganpati to Christmas.
Although the anarkali is still going strong this season (and you may be able to recycle some of your old suits) there are some new innovations in design that will have you running to your nearest mall. The latest thing on the ramps is the asymmetrical anarkali. It comes up to the ankles in the front, letting you show off your gorgeous heels and keeping your legs free for movement. At the back, it covers you completely, making your anarkali look almost royal as you walk. For those of you with a tall frame, try one of these on because they will work wonders for you.
The anarkalis today are going heavy on prints which just makes them even more fashionable. From embellishments to gradient finishes, these anarkalis have them all. They're oh-so-gorgeous, that you will not be able to resist picking up one or two, because they are the perfect choice for any occasion!
Color wise, we are seeing a definite inclination towards the peaches, pinks and pale blues. These colors are not always flattering for every body type so be careful when you make your pick. Lighter colors tend to hug your curves and make you appear curvier than you are. We are even seeing some parrot greens on the ramps. And trust us, they are much more gorgeous than they sound! Just remember one thing while wearing an anarkali,heels are an absolute must. The silhouette of the anarkali can make you appear shorter and stockier and the heels give you the necessary height and stylish edge.
Chudidaars this season are also borrowing heavily from some of the most characteristic anarkali elements. The see-through long sleeves and koti imitation (the chest of the anarkali is called a koti) and in some case even the length is overwhelmingly long like an anarkali. What makes them different, is the girth. These chudidaars lack the flamboyant girth of the anarkali. For a more subdued occasion (like a wedding of a far off relative) these are your best option. While they still say festive and glamorous, they don't scream for attention which makes them the perfect choice.
Some designer salwaar suits are flaunting a contrasting jacket. This immediately lends a certain style to your overall look, especially with the delicate embroidery. They are great for professional occasions as well as personal ones, allowing you to be completely versatile. The best part about these jackets is that they highlight your bust and work to tone down the rest of your figure, making you appear much leaner.
Now all you have to do is pick one designer suit that you love, accessorize and hit the parties! Click on any image you like to buy online!